Description
Gemini Laser Ultradent is the first dual-wavelength soft tissue diode laser available in the United States. The unique dual-wavelength technology combines the optimal melanin absorption of an 810-nanometer wavelength laser with the optimal water absorption of a 980-nanometer wavelength laser.
Laser dentistry is one of the most exciting advancements in the dental health field. These options provide both dentists and patients with greater precision, accuracy, and comfort than ever before. One of the most celebrated lasers among these is the Gemini soft tissue, manufactured by Ultradent.
It gets its name, Gemini, from its unique combination of two different laser wavelengths. The ability to seamlessly transition between the two wavelengths allows for previously unheard-of levels of precision.
Features of the Gemini Laser Ultradent
Features unique dual-wavelength technology that combines the optimal melanin absorption of an 810-nanometer wavelength laser with the optimal water absorption of a 980-nanometre wavelength laser
The laser has 20 watts of super pulsed peak power which means a faster and smoother cut with less tissue marking
Elegant and innovative design features an impressive transparent electroluminescent display, simple user interface, and 19 predefined procedures
Gemini PBM Adapter
The Gemini PBM Adapter Kit allows clinicians to offer pain management therapy during a laser procedure through photobiomodulation (PBM). Light energy is absorbed at a cellular level, improving circulation, oxygenation, and enzyme activity.
Kit includes:
PBM Adapter
Software update—adds "Pain Relief" preset under "Hygiene"
Single-use spacer tips (2)
Handpiece holder clip
Cleaning cloth
User manual
What is the Gemini laser and how does it work?
The Gemini Laser Ultradent is a soft tissue diode laser. It is the perfect soft tissue tool. It vaporizes tissue with an impressive 20 watts of peak power which to the clinician means faster and cleaner cutting.
What differentiates it from other lasers/light cures?
The Gemini Laser Ultradent stands apart from the rest of the diode lasers on a few important factors. It boasts the most power (at 20 watts), but also uses the technology of super pulsing so the laser is actually off more than it's on. This thermal cooling of the tissue prevents charging, but also provides a cleaner cut. The Gemini is also the first to offer two wavelengths.
Until now, a clinician had to choose a specific wavelength (810, 940, or 980), but the Gemini is both 810 and 980. No more debating which wavelength is better for each procedure.
What Treatments Use Lasers?
Lasers can be used in some aspects of dentistry that may have involved more intensive surgical measures previously, such as a scalpel. The Gemini Laser Ultradent is a diode laser that operates off of a 20-watt power source and can quickly and precisely remove soft tissue, then will cauterize the area.
Just a few of the treatments that benefit from this technology include:
Intensive gum disease treatments such as scaling, root planning, or deep cleaning
Reshaping the gum line for cosmetic purposes, or to support the placement of a crown or bridge
Removal of cold sores or canker sores
A frenectomy, or removing excess tissue connecting the lip and gums or the tongue to the bottom of the mouth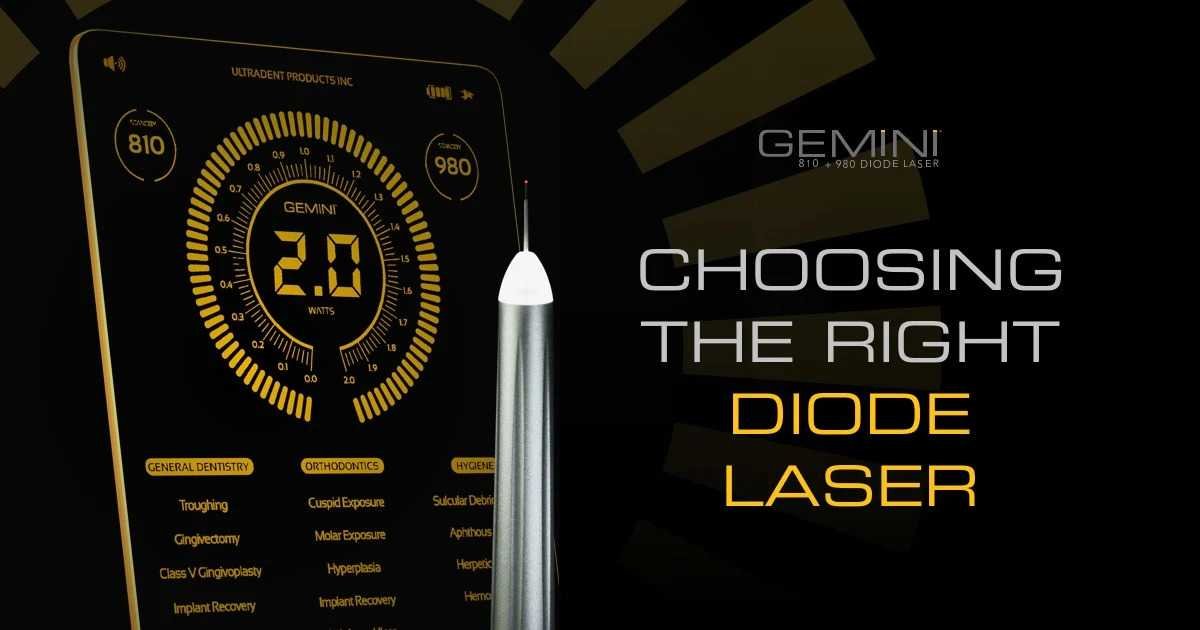 Benefits of the Gemini Laser Ultradent
There are countless reasons that we opt for lasers for our patients over more traditional methods, including:
Faster procedures, meaning that you can get on with your life as quickly as possible
Minimized discomfort and bleeding due to the laser instantly cauterizing the tissue as it works
Accelerating healing time and decreased risk of infection due to cauterizing the wound rather than suturing
Increased precision resulting in a far more accurate procedure
Decreased need for anesthesia
The Gemini 810 + 980 diode laser is a dual-wavelength soft tissue diode laser that can be used intraorally for frenectomies, gingivectomies, and other soft tissue procedures.
The following is a list of FDA-cleared indications for use of diode soft tissue lasers:
Excisional and incisional biopsies
Exposure of unerupted teeth
Frenectomy
Frenotomy
Gingival troughing for crown impression
Gingivectomy
Gingivoplasty
Gingival incision and excision
Hemostasis and coagulation
Implant recovery
Abscess incision and drainage
Laser removal of diseased, infected, inflamed and necrosed soft tissue within the periodontal pocket
Laser soft tissue curettage
Leukoplakia
Operculectomy
Oral papillectomies
Pulpotomy
Pulpotomy as an adjunct to root canal therapy
Reduction of gingival hypertrophy
Soft tissue crown lengthening
Sulcular debridement (removal of diseased, infected, inflamed, and necrosed soft tissue in the periodontal pocket to improve clinical indices including gingival index, gingival bleeding index, probe depth, attachment loss, and tooth mobility)
Treatment of canker sores, herpetic, and aphthous ulcers of the oral mucosa
Vestibuloplasty
ADVANTAGES:
Faster, Smoother Cutting
20 watts of peak super-pulsed power and short pulse durations provide faster, smoother cutting without causing excess thermal tissue damage or tagging.
Dual Wavelengths for Increased Clinical Versatility
Dual-wavelength technology combines the optimal melanin absorption of the 810nm wavelength and the optimal water absorption of the 980nm wavelength.
19 Preset Procedures
The Gemini is preset with 19 common procedures with the most effective power and pulse settings for each procedure.
Tip Illumination
LED tip illumination provides better visibility at the surgical site.
Convenient, Easy-To-Use
Wireless foot pedal
Autoclavable handpiece for simple sterilization between procedures
Sleek, innovative design features a stunning transparent electroluminescent display
Simple user interface
Battery-operated cordless design
Pre-initiated tips for easy setup
KEY  SPECIFICATION
Technical Specifications:
| | |
| --- | --- |
| Display type: |  Electroluminescent |
| Transparency: | 92% |
| Brightness: | 300 cd/m^2 |
| Color: | Broadband Yellow |
| Peak Wavelength: | 582 nm |
| Voltage: | ~180V AC |
| Response time: | 1.8 ms |
| Glass type: | Float Glass |
| Glass thickness: | 1.1 mm fused |
| Thin Film Thickness: | 1 micro |
| Dimensions of Laser Unit: | 6.7" (L) x 6.6" (W) x 10.1" (H) – 17.2 cm (L) x 17.0 cm (W) 25.7 cm (H) |
| Dimensions of Foot Pedal: | 6.1" (L) x 5.0" (W) x 4.1" (H) – 15.5 cm(L) x 12.7 cm (W) 10.4 m (H) |
| Weight: | 2.2 lbs – 1.0 Kg |
| Laser classification: | Class IV laser device |
| Delivery system: | Optical Fiber |
| Wavelength: | 810 nm or 980 nm ± 10 nm Dual Wavelength ± 10 nm (50% @ 810 nm / 50% @ 980 nm) |
| Maximum power: | 810 nm @ 2.0 Watts ± 20% 980 nm @ 2.0 Watts ± 20% Dual Wavelength @ 2.0 Watts ± 20% |
| Aiming beam wavelength: | 650 ± 10 nm |
| Aiming beam power: | 5mW max |
| Beam divergence: | 617 mrad |
| Power range: | 0.1 Watt to 2.0 Watts Average |
| Pulse frequency: | 50 Hz |
| Pulse width : | Variable |
| Duty cycle: | Variable |
| Voice confirmation: | Yes |
| Power requirements: | 100-240 VAC @ 50 to 60 Hz – 13V |
| Current: | 4.0 Amps |
| Battery: | 11.1V Rechargeable Lithium Ion |
| Wireless frequency: | Bluetooth at 2.4 GHz |
| Maximum Operating Altitude: | 5,000 meters or 16,404 feet |
INCLUDE:
Gemini Laser Kit (8990):
1 x Laser unit
1 x Power supply
1 x Foot pedal
1 x Handpiece
10 x 5 mm pre-initiated tips
3 x Safety glasses sets
Gemini Power Supply (8991):
Gemini Handpiece Shell (8996):
Gemini Foot Pedal (8992):
Gemini Safety Glasses (8995):
Reference Library