Description
Carestream CS 3800 is one of the market's lightest, most compact, and most reliable wireless scanners. Its slim, cordless design, developed in collaboration with Studio FA Porsche, ensures that the CS 3800 lies better in hand and offers the user greater convenience during the scanning process.
With the field of view (FOV) enlarged to 16 mm x 14 mm and the depth of field of 21 mm, it offers various new possibilities and, as the new top-of-the-range scanner model, Carestream Dental's portfolio of intraoral scanners, which also includes the CS 3700 and the CS 3600 includes. Thanks to their intuitive user interfaces, all three scanners are ideal for doctors who want to digitize their workflows.
Scan easily, quickly, and wirelessly with Carestream CS 3800
Scanning has never been so easy and precise – perhaps your most helpful assistant, capable of efficiently and successfully designing digital work processes in connection with the new version of the CS ScanFlow software. Freedom without limits – implantology, orthodontics, and even entire toothless jaws can now be digitally recorded.
Carestream CS 3800 offers you another opportunity to build trust with referrers, improve patient communication, take on new case types and thus generate recent sales for your practice.
The CS 3800 paves the way to absolute freedom with all the possibilities of an end-to-end workflow. The powerful CS ScanFlow 1.0.4 scanner software includes indications for restorations, implant-based restorations, orthodontics, sleep splints, and, with the latest software version, dentures. This enables doctors to treat more patients with various clinical needs.
In addition, the Carestream CS 3800 represents the entry into an open and flexible 'digital ecosystem' that allows users to select the components and partners that best suit their preferred workflow. "Today, it's all about the 'connected practice' that enables clinicians to combine devices, software, data, and partners into an endless number of possible workflows," said Ed Shellard, a chief dental officer at Carestream Dental.
What's new
The Carestream CS 3800 has a new sensor technology. This enables an improved depth of field of 21mm. The enhanced device software and the latest hardware components also promote the recording speed. This could again be reduced by 20 to 40 percent.
Freedom at your fingertips
Enjoy a fluid scanning experience with the new high-performance wireless CS 3800 intraoral scanner. The result of our ongoing collaboration with Studio F. A. Porsche, the CS 3800 is designed for a more precise, comfortable, and faster scanning experience.
Wireless performance
One battery charge gives a whole hour of continuous scanning capabilities, and with extra batteries and a backup power cable*, you're always prepared. The charging station also doubles as a mount for the scanner in horizontal and vertical positions.
Ultralight and ergonomic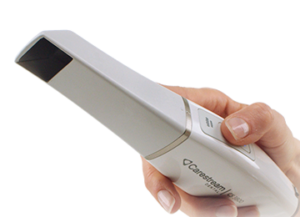 Compact and elegant, the CS 3800 weighs in at just 240 grams. Combined with an ideal balanced leverage point, this ensures maximum comfort when holding and maneuvering the scanner.
High scan speed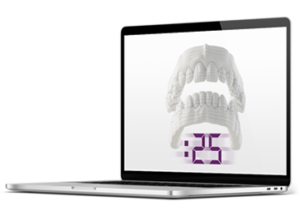 A larger field of view, deeper depth of field with more frames per second, and an optimized algorithm make it our fastest intraoral scanner yet. This improves the experience for users and patients.
Unlock the potential of every image
CS ScanFlow software provides unlimited versatility, scalability, and workflow capacity. Scan faster and use one-click export to pursue any indication from the base scan or immediately share HD impressions with patients. The possibilities are endless.
Use data where you need it.
The data you acquire with your intraoral scanner integrates seamlessly with other Carestream Dental software and third-party software, so it's easier to accomplish clinical targets and improve patient outcomes.
The Scanflow Premium software is also new. The optional premium upgrade brings the following features:
Prosthesis mode: scanning edentulous jaws
Anti-reflection mode
Smart Position mode
Brightness/color adjustment for better reproduction for the patient
Automated design and export of 3D models for internal 3D printing
A scan can be saved as an MP4 file
Digital creation and transmission of impression scenes to encourage patient involvement from the start of treatment
Automatic quadrant snapshot and report
5-bit capture function
Hybrid scan mode for each modality
Benefits
High-performance wireless intraoral scanner for optimal mobility and seamless user experience
One of the lightest and most compact intraoral scanners on the market
Faster and smoother scanning thanks to a larger and broader field of view and a deeper field of view
Complete control of the intraoral possibilities right on the handle
Ergonomic design by Studio FA Porsche
Enjoy the benefits of a digital workflow in the following areas:
Restorations
Implants
Orthodontics
Assistant prostheses
Sleep dentistry
Technical specifications
Fast and fluid scanning
Ultra-lightweight with only 240g, including battery
Slim, compact, and ergonomic design by Studio FA Porsche
Multi-function button
Wireless freedom: scan for up to an hour
Extended field of view and increased depth of field
Open system – no license fees
Automatic tooth color detection
Intuitive software CS Scanflow Basic
Intelligent matching system
Can be used powder-free
Data output in.STL and . PLY format
VDDS interface
Battery life: one hour (battery can be changed)
Improved depth of field: 21mm
Field of view: 16mm x 14mm
Powder-free system
Live to match
Very low noise thanks to new sensors
Optimized scan flow
Improved edge display
Three scanning tips/attachments available
Fog protection through airflow
Battery charging time: 2 hours to 100%
Recognition of the tooth color
Designed by Studio FA Porsche
Incl. CS Connect
Direct cable connection possible
It can be combined with CS Imaging (VDDS interface to practice software)
Optional: CS Protect (5-year guarantee)
Optional: disposable tips
Optional: Scanflow Premium (e.g., acquisition of edentulous jaws)
Optional: high-performance notebook
Optional: instruction, on-site training, support
The Scanflow software version, which is supplied as standard, also checks which jaw areas or tooth areas need to be re-scanned to obtain an optimal result after each scan.
Since the software only adds and adds the scanned areas, a completely new recording is unnecessary. This is particularly helpful in patients with an increased gag reflex, for whom it may be required to stop the scanner more frequently.
If there are still smaller "gaps" at the end of the scanning process, the supplied software recognizes this and automatically recalculates them. Scanning again is not necessary.
Some more features of the oral scanner:
With intelligent shade determination, you can determine the tooth shade digitally.
The color rendering can be activated or deactivated as required.
The hybrid scan function combines the impression with the intraoral 3D jaw exposure.
We recommend the CS Protect extended warranty:
With CS Protect, you receive a guarantee extension to 5 years. In this way, you can protect yourself against unexpected additional costs.
Workflow optimization – perfect integration into the practice software
In combination with the CS Imaging software, you can call up the recordings directly via the VDDS interface via your practice software and start evaluating the scans immediately.
Who will take care of the jaws?
Since the impression is an essential component for an optimally fitting denture, it is often done directly by the dentist.
Since the digital dental scan can be checked directly, you are free to decide whether you want to take the impression yourself or delegate it.
Save taxes thanks to investment deduction and special depreciation – also applies to dental practices.
In the case of cash purchases, in particular, the question of depreciation arises.
Currently – thanks to the adjustment of the investment deduction amount – 50% of the acquisition costs can be reserved and thus deducted in the year before the acquisition. In the year of purchase, an additional 20% is possible as a special depreciation on the remaining book value.
Obtain state funding for intraoral scanners
Dental technicians can sometimes get funding for the purchase of an intraoral scanner. Depending on the federal state, the state pays up to 50% of the acquisition costs. Please do not hesitate to ask us. We will check whether you are eligible for funding.
Include:
Two years warranty
Powerful notebook (i7, 32GB RAM, NVIDIA Geforce RTX3060, 15.6″ Full HD)
CS Scan Flow premium version
CS Protect for CS 3800 + 3 years
Installation with training and delivery, incl. 12 months support
Battery charging station
power cord & power supply
normal tips (5 pieces)
narrow tips (5 pieces)
side tips (5 pieces)
Wi-Fi dongle
Reference Link