Description
Planmeca PlanScan is a proven intraoral scanner for capturing accurate digital 3D impressions. It can be integrated directly into your digital Planmeca dental unit or connected to a laptop. Planmeca PlanScan provides a seamless user experience and supports an optimal digital treatment workflow.
Discover Planmeca PlanScan – our cutting-edge intraoral scanner for accurate digital 3D impressions. This high-performance intraoral scanning solution can be integrated into your digital Planmeca dental unit, or connected to a laptop. Planmeca PlanScan provides a seamless user experience and supports an ideal digital treatment workflow.
The Planmeca PlanScan works under the principle of optical coherence tomography and confocal microscopy. It is a powder-free scanner with a blue light real-time laser video streaming technology. It has tips of various dimensions with built-in heated mirrors.
Planmeca PlanScan is an open system since it allows conversion of the acquired proprietary files into STL files, readable by all CAD systems. It can be easily connected to a laptop via a USB port and has a proprietary milling machine available for the fabrication of full in-office digital restorations such as inlays, onlays, crowns, bridges, and veneers.
Accurate intraoral scanner for chairside CAD/CAM
Planmeca PlanScan is particularly well suited for precise sextant scanning – making it a proven choice for restorative dentistry. The scanner is ideal for capturing digital impressions of individual teeth and their neighboring dentition.
Planmeca PlanScan Features
Comfortable to use
Intraoral scanning is a very comfortable way to treat patients, as scans are quick to perform and do not require using gooey impression materials. Patients are also often interested in seeing the level of technology available in dentistry today up close in person.
Dental unit integration
Planmeca PlanScan's seamless integration with Planmeca digital dental units guarantees a smooth workflow in all situations, with real-time scanning data immediately visible from a chairside tablet.
Open imports and exports
Planmeca PlanScan is an open architecture intraoral scanner, as it fully supports exporting and importing STL files. Sending cases to partners inside or outside the clinic is always simple and sophisticated.
Three tip sizes
Planmeca PlanScan has three available tip sizes to choose from. All the tips are easy to change, autoclave, and sterilize – supporting responsible infection control measures.
Wireless foot control
Our intraoral scanners can also be operated from a wireless foot control, leaving your hands free for scanning and patient treatment. The foot control allows you to easily toggle between scanning functions.
Flexible workflow options
Everyone has their own way of working and Planmeca intraoral scanners cater to all of them. You can perform the entire restorative workflow yourself from start to finish or export any part of it to a colleague or other partner.
Complete chairside integration
Planmeca PlanScan is an integrated part of Planmeca FIT, the chairside system that combines all steps of the CAD/CAM workflow – from scanning to designing and milling.
3 reasons to apply Planmeca PlanScan in your practice
1. Easy to Use
Everything about the Planmeca PlanScan makes restorative dentistry quicker and easier– from intuitive computer-guided image capture to plug-and-play technology that gives you the freedom to scan at multiple Planmeca PlanScan workstations. Additionally, it's powder-free.
2. Optimal accuracy
It's the only intraoral scanner in the world with blue laser technology. Its smaller wavelength (450 nm) is more reflective, resulting in sharper images. Its ability to capture fine details allows for more clinically precise prosthetics.
3. Added Plus
The new scanner and new open CAD software suite for easy 3D design, Planmeca PlanCAD™, is integrated within the Planmeca Romexis® software and is a perfect tool for designing prosthetic works from individual inlays to full-arch bridges and abutments.
For practitioners who place implants, the Planmeca Romexis software enables them to import data needed for treatment planning from another system, whether or not it is Planmeca's. Users of Planmeca Romexis software can now share images (2D and 3D) and documents with minimal effort via a Planmeca Romexis Cloud.
Information is securely transferred into the cloud and the recipient is automatically notified of new cases requiring his or her attention.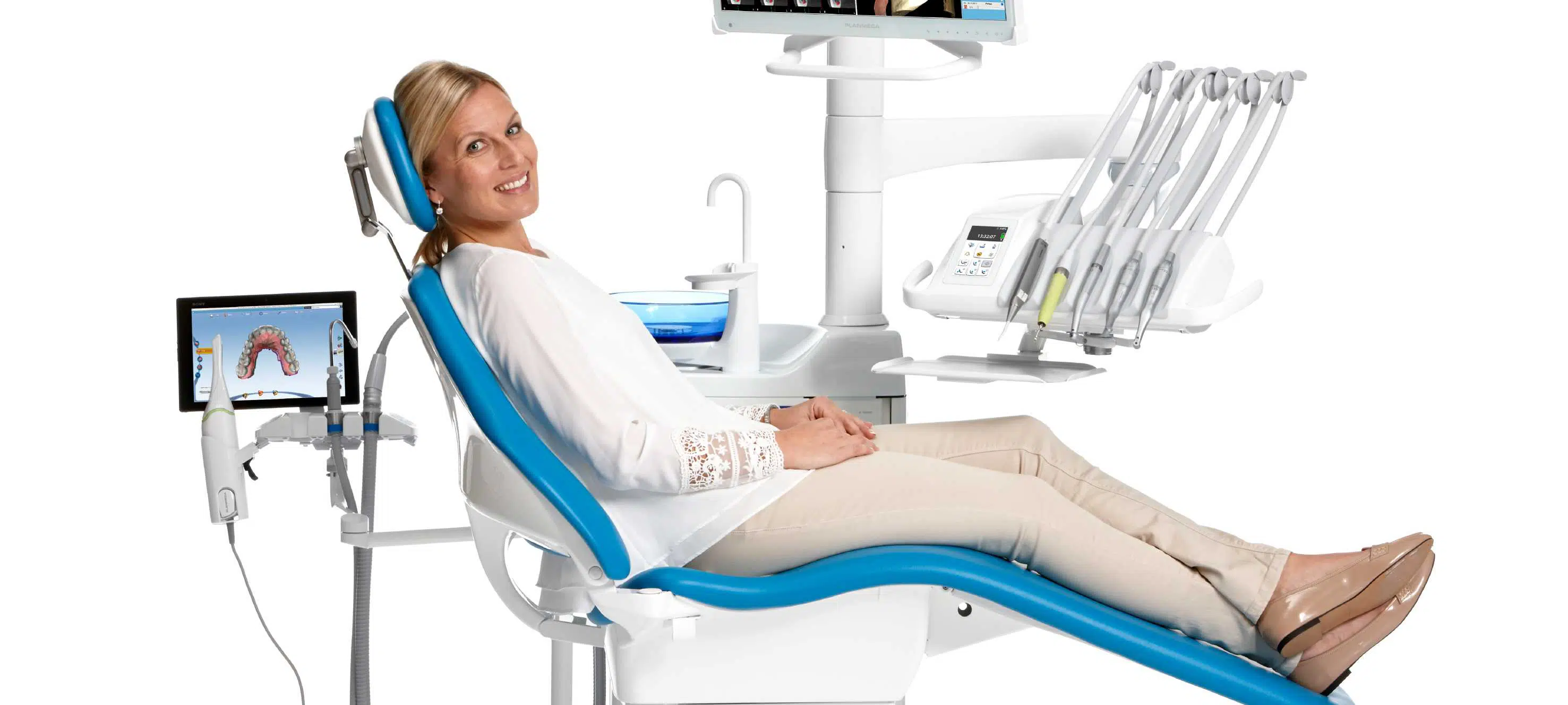 What Does Planmeca PlanScan Do?
The Planmeca PlanScan is an innovative intraoral scanner that uses CAD/CAM (computer-aided design/computer-aided manufacturing) technology. While CAD/CAM technology has been used in dentistry for many years, the PlanScan takes it to the next level. PlanScan is the only intraoral scanner that uses blue laser technology to produce sharper, more detailed images of both teeth and tissue. This means that our dentists can more easily provide detailed and accurate treatment plans.
PlanScan also offers several other benefits, including:
• Heated mirror head to prevent fogging
• Powder-free scanning
• Thunderbolt™ technology for transmitting data to a laptop almost instantaneously
• Detailed images help produce clinically accurate dental restorations in our office
• Dissipated heat, which allows us to quickly make a continuous scan without interruptions
Once your scan is complete, our dentists can use additional Planmeca technology to produce same-day dental restorations that are designed to look almost exactly like your natural teeth and provide natural-like support and functionality in your bite.
Specifications
Integration: built into the Planmeca unit / connected to a computer
Data output: open STL format
Scan type: True color
Scanning attachment: replaceable, autoclavable, sterilizable
Field of view of attachments:

Size 2, Standard: 15.0 x 20.0 mm
Size 1, Medium: 12.7 x 9.2mm
Size 0, Small: 12.5 x 11.8mm

Dimensions:

Scanner with attachment: 48 x 53 x 276 mm
Nozzle: 40.5 x 49 x 123 mm

Weight:

Scanner: 516g
Nozzle: 28 g

Power supply: 12V DC
Storage conditions: -20 ° C to + 60 ° C (-4 ° F to 140 ° F)
Working conditions: 20 ° C to 28 ° C
Planmeca PlanScan Include:
Planmeca PlanScan
Cart
Includes Thunderbolt adapter and 2 working tips
HP Laptop with Software
License Transfer with Planmeca
1 user license for 2 years for unlimited scans
Software Upgrades in 2020
Colored attachment for color scanning
Extended license for 3 or 5 years for modeling and/or scanning
Extended scanner warranty
Additional User Licenses
Reference Library
Planmeca PlanScan Intraoral Scanner Manufacturer Information