Description
Planmeca ProScanner imaging plate scanner is a powerful solution for both chairside and shared multi-room use. It supports your everyday tasks with smart design details, ensuring a fast scanning process.
Compact and fast
Packed in a streamlined and elegant design, the compact Planmeca ProScanner fits any room. It allows you to take top-quality images in a matter of seconds. A preview image is displayed on the scanner's LCD touch screen for instant verification of the result, while the embedded eraser prepares the plates for further use. The 100 most recent images are saved on the scanner's SD card for enhanced security.
Smart imaging plates in all sizes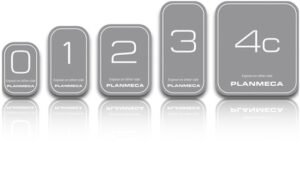 Planmeca ProScanner imaging plates are durable, but also extra soft for patient comfort. They come in all imaging plate sizes – 0, 1, 2, 3, and 4c. The advanced plates are equipped with an RFID chip holding an electronic serial number. You can sort, view, and compare images for quality control, as well as count exposures by using the serial number of each plate in the Planmeca Romexis® software.
Perfect for multi-room use
Planmeca ProScanner is an ideal solution for clinics of all sizes. The scanner can be shared between multiple treatment rooms with the help of its intelligent RFID chip or the Planmeca Romexis software's scanner list. In shared use, the plates can be tagged to a particular workstation and patient file by reading their serial numbers in the treatment room.
Planmeca ProScanner Features:
For both Chairside and Multi-Room
USB or Ethernet Connection
Size 0,1,2,3 &4C Plates
Auto Erase
Plates can store patients name
LCD Display for image preview
Fully Compatible with Windows & Mac
Dimensions (H x W x D) – 265 x 120 x 318 mm
Reference Library